Congratulations! You have discovered



Corgi
by
Chelsea Kenna ©
Do not copy, alter or redistribute.

You can see more Chelsea's art by clicking on the picture.
---
The Latest Update — June 15, 2019
(# of entries: 252)
Summer is here again and so is the June update (albeit a few days behind schedule). Three series continue with Flash Flood, Traitorous Toys and The Voice of Prophecy. And if you fancy a stand-alone read instead, there's this fragrant little number.
---
Click on the images below to

or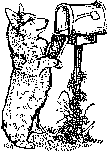 report a sighting


or visit these



Corgi rubber stamps images originally produced by Catch A Falling Star


---
In Memoriam
---

Corgi Sighting Database created and maintained by Jouni Pohjola