Congratulations! You have discovered



Lazy Days
by
A.J. Adams ©
Do not copy, alter or redistribute.

You can see more A.J's art by clicking on the picture.
---
The Latest Update — September 15, 2019
(# of entries: 257)
Long time no see! The site has been offline for an unexcusably long time (more than a month) because the server on which it was hosted crashed unrecoverably and the service provider didn't manage to get it up and running (their excuse being that they are volunteers who don't really have much of funding). The situation dragged along so far that there wasn't even a traditional birthday (of the site, that is) update. But here we are now at long last, on different and rather overloaded server but at the same address, thankfully.

As the site turned 18 on September 11 — and can thus legally drive a car and get married in Finland (-:) — this latest update is festively massive. There are no less than four new books (Church Castle Corgis by Susan Wilson, Spider's Web in the Green Mountains by Richard Wolkomir, Tying the Knot by Elizabeth Spann Craig and Wedgie & Gizmo by Suzanne Selfors), accompanied by a superhero comic Mockingbird by Chelsea Cain (complete with a review by yours truly). Also, the entry for the animated TV show Infinity Train created by Owen Dennis has been extensively reworked since 2016 and finally there is even a new Corgi link on the links page! Enjoy!

Next update hopefully in a more predictable time in mid-December...



---
Click on the images below to

or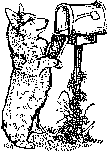 report a sighting


or visit these



Corgi rubber stamps images originally produced by Catch A Falling Star


---
In Memoriam
---

Corgi Sighting Database created and maintained by Jouni Pohjola