Congratulations! You have discovered



Awesome Corgi
by
Karolína Kučerová ©
Do not copy, alter or redistribute.

You can see more Karolína's art by clicking on the picture.
---
The Latest Update — December 13, 2020
(# of entries: 284)
Welcome to the Christmas 2020 update of CSDb! The official Holiday Special entry this year is a VOD movie, namely Santa's Summer House.

For those who prefer to do some reading over the holidays, we have these stocking stuffers: two cozy mysteries, Chaotic Corgis and Fall to Pieces, plus a little something for the wee ones, Wedgie & Gizmo vs. the Toof.

But wait, there's more! No less than two different games (of sorts anyway) have borne the (approximate) title Corgi Quest (this and this), and they are not the only ones with that name: there's also this (an update on an old title).

So as you can see, there's plenty of stuff to delve into in this season to be jolly!



---
Click on the images below to

or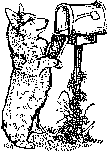 report a sighting


or visit these



Corgi rubber stamps images originally produced by Catch A Falling Star


---
In Memoriam
---

Corgi Sighting Database created and maintained by Jouni Pohjola