Congratulations! You have discovered



Roy Smiling
by
Professor Pemzini ©
Do not copy, alter or redistribute.

You can see more Professor's art by clicking on the picture (but be warned that some of it is rather disturbing in nature).
---
The Latest Update — March 17, 2018
(# of entries: 248)
The March 2019 update is here, and it's both vast and varied!

To start with, we continue on two cozy mystery novel series with Shear Trouble and Tall Tail. We also have another book in an adult coloring book series, Adventures with Scamp and a long-missing-from-the-database sequel to a horror novel from the early days of CSDb, Hair of the Dog. Then there's a very minor sighting in the movie Mortdecai. Eikä siinä vielä kaikki, suomen kieltä osaavat lukijani voivat tutustua arvosteluuni Tittamari Marttisen Nepi-kirjoista (sorry English speakers, in Finnish only)!

And to round it all up, there's some background work done on updating various entries in the Place of Dead Trees section — but you need to go look for those changes yourself.
---
Click on the images below to

or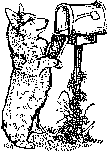 report a sighting


or visit these



Corgi rubber stamps images originally produced by Catch A Falling Star


---
In Memoriam
---

Corgi Sighting Database created and maintained by Jouni Pohjola