Congratulations! You have discovered



Roy Smiling
by
Professor Pemzini ©
Do not copy, alter or redistribute.

You can see more Pemzini's art (amongst other stuff) by clicking on the picture.
---
The Latest Update — September 11, 2021
(# of entries: 302)
The Corgi Sighting Database is 20 years old today! To celebrate being two decades online, we have an extra large update of no less than six sightings... Which in turn takes the total number of entries included over the 300 mark!

But enough self-appreciation and on with the actual update! To start with, you can have some fun in the approaching Halloween with Trick-or-Treating with Scamp. And for some more books to spend those darkening nights with you can turn to the mystery novels Case of the Chatty Roadrunner and/or Star Nose, while the wee ones of the family peruse A Corgi's Tale and/or Wedgie & Gizmo vs. the Great Outdoors. And to round this festive update up, you will find there's a minor sighting of a Corgi available in the TV-series 9-1-1.



---
Click on the images below to

or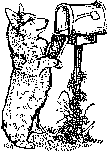 report a sighting


or visit these



Corgi rubber stamps images originally produced by Catch A Falling Star


---
In Memoriam
---

Corgi Sighting Database created and maintained by Jouni Pohjola