Congratulations! You have discovered



Corgi Patronus
by
Tribalchick101 ©
Do not copy, alter or redistribute.

You can see more Tribalchick101's art by clicking on the picture.
---
The Latest Update — December 15, 2018
(# of entries: 242)
A bit late with the update... So what else is new...

Anyway, soon it will be Yuletide again and so there's a Christmassy book up for you — Henry the Queen's Corgi — as well as two more regular literary offerings: Case of the Fleet-Footed Mummy (AKA Corgi Case Files #2) and The Shaman's Curse (AKA Dual Magics #1). Enjoy!

Oh and don't forget to visit Corgihouse for their traditional Christmas calendar once you've done here!
---
Click on the images below to

or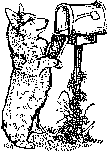 report a sighting


or visit these



Corgi rubber stamps images originally produced by Catch A Falling Star


---
In Memoriam
---

Corgi Sighting Database created and maintained by Jouni Pohjola