Congratulations! You have discovered



Lazy Days
by
A.J. Adams ©
Do not copy, alter or redistribute.

You can see more A.J.'s art by clicking on the picture.
---
The Latest Update — March 13, 2022
(# of entries: 313)
So the update is a little late but quite coincidentally the date is a good match for the number of entries!

Anyway, we have what amounts to another cozy mystery special this time around, with four novels from four series of the said genre: Case of the Highland House Haunting, Killer Keys, Rest in Pieces and Whiskers in the Dark. However there's also a little treat for those looking for a(n even) lighter fare: a minor sighting in the remake* of The Princess Bride movie.
---
*) but not the kind of remake you've come to expect from Hollywood



---
Click on the images below to

or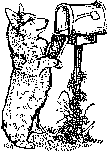 report a sighting


or visit these



Corgi rubber stamps images originally produced by Catch A Falling Star


---
In Memoriam
---

Corgi Sighting Database created and maintained by Jouni Pohjola