Congratulations! You have discovered



Not Guilty
by Atey Majeed Ghailan ©
Displayed here with artist's permission. Do not copy, alter or redistribute.

You can see more Atey's art by clicking on the picture.
---
The Latest Update — September 12, 2023
(# of entries: 349)
The 22nd anniversary update of the Corgi Sighting Database is finally here!

Okay, it's only one day behind schedule so not many of you probably had time to miss it. And anyway, I do think it's worth the wait as it's massive with no less than seven new entries!

Firstly, in anticipation of Halloween, we have Precarious Pasta, a cozy mystery from the prolific Mildredd Abbot, and additional treats for the fans of the genre may delight in are Case of the Abandoned Bones by Jeffrey M. Poole, Claws for Alarm by Rita Mae Brown and Fortune's Wheel by J.A. Whiting. Then, for a change of pace, we have a somewhat anarchistic web comic Skull Panda, a children's book (one assumes) Ralph to the Rescue and finally a CSDb first: a board game with a prominent Corgi in it — Hair of the Dog!



---
Click on the images below to

or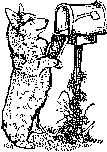 report a sighting


or visit these



Corgi rubber stamps images originally produced by Catch A Falling Star


---
In Memoriam
---

Corgi Sighting Database created and maintained by Jouni Pohjola